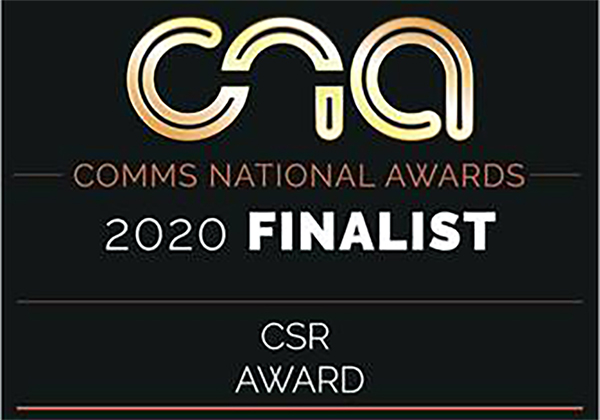 Following a string of recent award successes, Astro Technology Group is delighted to announce that they are finalists in the Comms National Awards, Positive Impact Category for CSR.
Astro is in the running against Cirrus, Network Telecom and TalkTalk for this strongly contested category which saw Astro's entry focus on CSR initiatives such as Camp Cando, Positive Transformation Initiative, London Village Network and a 20-year relationship with The Bud Flanagan Leukaemia Fund.
Steve Smith, Co-Founder and CTO of Astro summarised the entry, 'CSR initiatives are ingrained in Astro Technology Group's history dating back to our first charity engagements. We invest heavily in our CSR activities to provide consistent, high impact support to the charities we engage with using our time, expertise and our connections. We live and breathe CSR and want to highlight the benefits of getting involved to encourage more organisations and individuals to do likewise and give back.'

The entry was supported by references from the charities Astro is involved with, as well as from the Worshipful Company of Information Technologists of which Steve is an active member. The Chair of the organisations Charitable Trust said, 'Although we are fortunate to have a number of committed volunteers, Steve is universally acknowledged as our most committed and most active. He will consistently put himself out for the good of the organisations we support and works tirelessly and creatively to find solutions. This can be a thankless task at times, but Steve maintains and exudes positivity and good humour even in the most challenging of volunteer assignments. It is impossible to begin to quantify the impact that Steve's volunteering has had on our beneficiaries, but he has worked with dozens of charities and, through his work, has transformed the lives of hundreds, if not thousands, of those in need.'
The winners will be announced on 22nd October.
This is the latest in a string of successes and developments for Astro as a company. Chief Exec, Steve Hodges was crowned Director of the Year for London and the South for an SMB up to £5m turnover. He was also a finalist as Executive of the Year from the Internet Service Providers Association in 2017 and Astro were named Business of the Year at the Dartford and Gravesham Business Awards in 2016, made the Megagrowth list in 2017 and 2018 and then went on to be named one of the Top 20 SME Culture Leaders in 2018. 2019 saw them become finalists at the World Communication Awards first ever Culture Change Awards – an award that recognises organisations that are best progressing in transforming cultural attitudes throughout their business.

About Astro Technology Group

Astro Technology Group has been delivering technical solutions to solve business challenges for over 30 years. Founded by two former apprentices of BT and Cable and Wireless, Astro has gone on to deliver some of the most technically challenging and complex solutions in the market.

Providing services ranging from full IT managed services, connectivity solutions and infrastructure deployments for key clients including Wynden Stark, London and Partners, TGI Fridays, Grundon Waste Management, Cisco Meraki and Oakman Inns.

Astro Communications has its headquarters at Hawley Manor, Dartford, and has offices in Calgary, Canada and staff across the UK and the rest of the world to service their global client base.