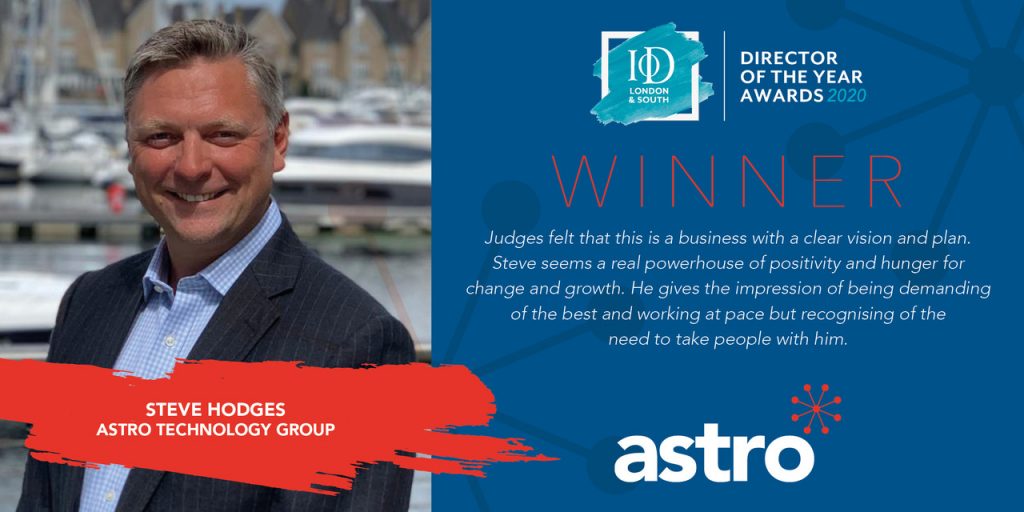 Astro Technology Group is delighted to announce that Chief Executive, Steve Hodges, has been crowned Director of the Year at the highly prestigious Institute of Directors Awards 2020. Steve was triumphant in the SMB up to £5m turnover category for London and South and was in the running alongside some extremely talented individuals shortlisted from entries across London, Kent, Sussex, Surrey, Hampshire & Isle of Wight, Berkshire, Oxfordshire and Milton Keynes.

The judges were looking for a business leader who has shown outstanding initiative, boldness and imagination in the enterprise, as well as sound management practices. There intro to Steve's award read, "Judges felt that this is a business with a clear vision and plan. Steve seems a real powerhouse of positivity and hunger for change and growth. He gives the impression of being demanding of the best and working at pace but recognising of the need to take people with him"

Commenting on his success, Steve said "Congratulation to all the finalists in all categories, it was fantastic to see so many amazing people all virtually gathered at one event. I would like to say a massive Thank You to the whole Astro team for playing their part in making great things happen as well as to Rise Communications, for being our public voice and supporting us brilliantly.
I would also like to use this opportunity to highlight that this award helps recognise the fact that, while it is important for youngsters to give themselves the best start through formal education, if that isn't an ideal option, or doesn't work out, there is still a path to achieving incredible outcomes through hard work, determination and other support channels, be that apprenticeships, mentors, organisations like the IoD or even simply friends & family."
I am really grateful to the IoD for this award and the recognition it brings as well as some very valuable support over the last decade".
As a company with strong charity links, Astro is delighted to support Childline, the official charity of the Awards and will be using their next company charity day to raise funds for this worthy cause.
https://www.justgiving.com/fundraising/iodlondonandsouthawards
This is the latest in a string of successes and developments for Steve Hodges personally and Astro as a company. Steve was a finalist as Executive of the Year from the Internet Service Providers Association in 2017 and Astro were named Business of the Year at the Dartford and Gravesham Business Awards in 2016, made the Megagrowth list in 2017 and 2018 and then went on to be named one of the Top 20 SME Culture Leaders in 2018. 2019 saw them become finalists at the World Communication Awards first ever Culture Change Awards – an award that recognises organisations that are best progressing in transforming cultural attitudes throughout their business.

About Astro Technology Group

Astro Technology Group has been delivering technical solutions to solve business challenges for over 30 years. Founded by two former apprentices of BT and Cable and Wireless, Astro has gone on to deliver some of the most technically challenging and complex solutions in the market.

Providing services ranging from full IT managed services, connectivity solutions and infrastructure deployments for key clients including Wynden Stark, London and Partners, TGI Fridays, Grundon Waste Management, Cisco Meraki and Oakman Inns.

Astro Communications has its headquarters at Hawley Manor, Dartford, and has offices in Calgary, Canada and staff across the UK and the rest of the world to service their global client base.