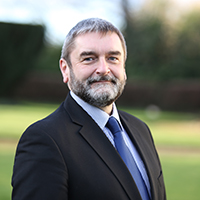 Steve Smith started out in the industry in 1973 as a Post Office Telecommunications Apprentice. He joined Cable & Wireless as a Service Engineer in 1979 and in 1984, having risen to Area Manager, co-founded Astro Communications with his C&W colleague Rob.
Steve has been responsible for the design and delivery of some innovative and challenging technology solutions including safety systems for the North Sea oil industry, global wide area networks, satellite overlay networks and autonomous vehicle networks. Often engaged to determine and resolve business threatening problems on some of the UK's largest networks, Steve has also developed and delivered bespoke training courses to over 300 support engineers.
Steve has a passion for developing young people in the industry, something that has seen him oversee Astro's apprenticeship scheme and most recently be appointed as Apprenticeship Ambassador for the London Apprenticeship Ambassador Network.
Steve is a Court Liveryman in the Worshipful Company of Information Technologists', Freeman of the City of London and Trustee of the Charity IT Association. He uses the knowledge he has gained in his life and career to help others, fulfilling a long-term desire to put something back into an industry that has given him so much pleasure.  In 2018 Steve became an Honorary Fellow of the Institute of Telecommunications Professionals.
Steve also has an active family life, he enjoys walking, watching rugby, live music, theatre, song-writing and performing.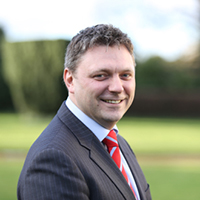 Steve brings to Astro over 20 years' experience in the telecommunication and IT sectors. Prior to joining Astro he held a variety of senior sales and operational roles in the industry including four years at the business to business ISP, Timico, transforming its sales strategy and developing an Enterprise-focused, solutions sales force with great success. Prior to that he spent three years as the Operations and Delivery Director at ICT Infrastructure and Managed Service Provider, Ramesys, (now Capita) delivering projects for organisations such as Galliford Try Services, Freeth Cartwright Solicitors and Westminster City Council.
In his role as CEO, Steve is involved in every aspect of running the business, but most enjoys spending time with customers and prospective customers evangelising about the customer-centric approach Astro has to providing technology solutions to business challenges.
Steve continues to lead the business transformation, which has been recognised and rewarded with Astro being named finalist in the Culture Change category of the prestigious World Communication Awards.
As a commercially endorsed Yachtmaster and qualified RYA sailing instructor, Steve is a keen coastal and offshore sailor, which takes up much of his spare time.  He also has a keen interest in neurolinguistics, shooting and rugby when time permits. In 2021 Steve will crew for the 2nd Leg of the Clipper Round the World Yacht Race from Uruguay to Cape Town.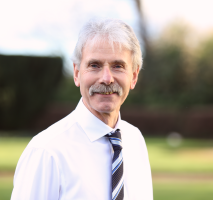 Rob Trollope
Co-Founder & Director
Tel. 0203 058 7770
Email Rob here >
Rob has been in the communications sector for over 40 years and has been running Astro with Steve for the last 30 of them. In that time Rob has enjoyed every aspect of the industry and running a successful business in this challenging and changeable market sector. Rob has been instrumental in a number of high profile projects over the years including being contracted to the Central Electricity Generating Board as a consultant to manage their communications split when they were privatised into PowerGen, National Power, Nuclear Electric and the National Grid. More recently Rob headed up our London Borough of Waltham Forest project team where Astro was responsible for delivering and managing a full range of communications services for the borough's corporate and education networks.
Day to day Rob is most heavily involved in the operational support and administrative side of the business ensuring that the sales, technical, operational and financial activities are supported with effective reporting and information management.
Rob is a dedicated family man and a keen sports enthusiast. His passion for sport extends well beyond the armchair and TV and he takes great pleasure in supporting his two boys in their competitive endeavours including occasionally caddying for one of his sons in a number of professional golfing competitions.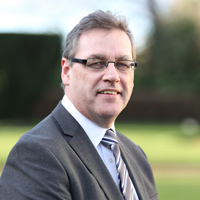 Dean Bruce
Director of Technical Architecture
Tel. 0203 058 7770
Email Dean here >
Dean has over 30 years' experience in communications and having spent fifteen years in the Royal Air Force and a further fifteen years in the civilian communications sector can quite justifiably claim to have designed, operated, maintained and supported very nearly every form of communications technology or system available. While technology is at the heart of his career, Dean is extremely passionate about providing customers an excellent level of service and support.
Dean joined Astro in January 2014 where he is responsible for the development of the Network Services side of the business. Prior to this Dean spent eight years as the Chief Technical Architect for Timico, designing and helping to deliver complex IP networks for organisations such as The British Medical Association, Greene King, Murco Petroleum, St John Ambulance, Associated British Ports amongst others.
As a full-time workaholic Dean spends much of his week on the road but likes nothing more than finding quality time for his kids and his granddaughter and getting home at the weekend to his beloved North East to relax with his partner and walk the dogs along the coast.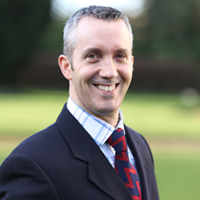 Adam Crocker-White
Director of Operations
Tel. 0203 058 7770
Email Adam here >
Adam began his career with Astro in 2002 after completing 14 years in the British Army, latterly as a Forward Observation Officer in the Royal Artillery where he led crews on reconnaissance missions and exercises all over the world.
During his time at Astro, Adam has been heavily involved in many of our most successful projects from installing cable systems and LAN infrastructure on-board ferries to implementing wired and wireless networks across entire holiday parks and hotels.
As Director of Operations, Adam is able to draw from a wealth of experience in forging partnerships with various customers across a broad range of sectors to provide bespoke network designs. These range from network infrastructure design and implementation through to ISP WAN connectivity, offering solutions for our partners and customers around the world.
When not juggling resources or visiting customers, Adam actively enjoys various motorcross and mountain biking activities.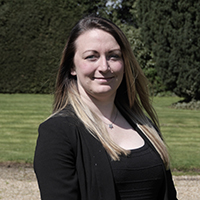 With over 10 years' experience in Customer Service in various industries such as Retail, Hospitality and Education, Sarah joined Astro in 2014 as a Customer Advisor on the Service Desk.  She assisted the team in helping customers requiring IT and network support and since joining the business, has undertaken rapid and extensive training and development.
As a result of this, Sarah has worked her way up the ranks to Service Delivery Manager, where she manages the First Line Engineering team, customer escalations, customer service reviews and oversees the day to day running of the desk.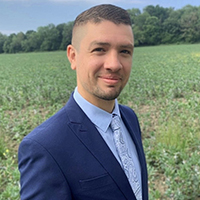 Kris Ruffell
Head of Account
Management & Development
Tel. 0203 058 7770
Email Kris here >
Kris has worked on building relationships his whole career, starting out as a sales assistant for a health-food manufacturer. After a brief stint coaching academy football in the UK and America, he moved on to be an IT Project Manager at a retail media company, successfully managing large scale rollouts across Europe.
Kris joined Astro in January 2019, as a Technical Account Manager, primarily responsible for supporting a number of clients with projects, as well as holding regular meetings to ensure the client's continued happiness in the excellent service we provide.
Passionate about the customer's experience with Astro, as Head of Account Management, Kris ensures that his team go above and beyond to exceed the client's expectations in any service we are providing from simple PSTN Lines or managed service support to full project rollouts and installations.
When he's not supporting or entertaining clients, Kris enjoys taking weekend walks with his family in the countryside and cracking cringe worthy 'Dad jokes'. He has organised, managed and taken part in many charity events including Marathons, sponsored runs and football matches. A self-confessed 'football geek' Kris enjoys getting stuck into a good trivia question.