October 10 was a very special day for me. I became a Court Liveryman in the Worshipful Company of Information Technologists – WCIT. I feel very privileged to have been given the responsibility that goes with this, especially as when I was granted Freedom of the WCIT back in 2014 my only desire was to give back.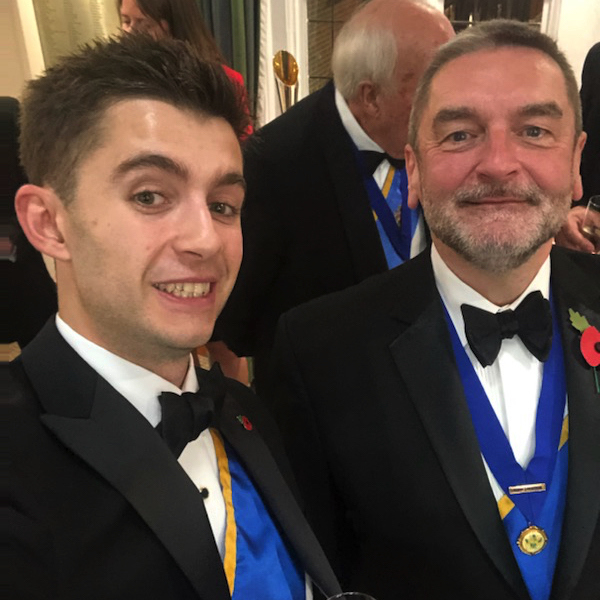 In 2013, around 28 years after Rob and I founded Astro it was time to hand over the reins. When Steve Hodges took over running Astro, he asked me what I wanted to do. I had been considering applying to join the WCIT for some years, but the time was not right. If I was accepted by the WCIT I wanted to be able to make a difference, otherwise, what would be the point in joining? Steve was very supportive and believed it was very much in line with our business ethos.
Prospective members applying to join the WCIT must go through a fairly lengthy process, especially if you are completely unknown to the Livery Company. Part of that process requires a candidate to select and commit to at least one Panel or Committee. Committees are permanent and cover aspects that are core to our Company such as Equality, Industry, Education and Membership whereas Panels are special interest groups that may have a medium or long-term life span. I selected several panels on my application form with the intention of seeing where I could add most value.
I became a Freeman of the WCIT in the summer of 2014. A Freeman is a junior member of a Livery Company and when granted Freedom of the Livery Company you are eligible to apply for Freedom of the City of London – a requirement to progress further within a Livery Company.
Historically, a freeman was someone who is not the property of a feudal lord and had the right to earn money and own land. In the middle ages a freeman of the City was someone with the right to trade in the City, their Livery Company would charge a fine and in return they would ensure their work was of the highest standard.
A Liveryman is a Freeman of the City of London and senior member of their Livery Company entitled to wear the livery of the ancient guild or city district to which he belongs and to vote in the election of Lord Mayor, chamberlain, and other municipal and honorary officers.
Livery Companies evolved into membership organisations maintaining the City Livery traditions but only a small number still have any authoritative involvement with their industry. Two notable exceptions are the Gunmakers and the Goldsmiths. The Gunmakers must proof any gun before it can be legally sold in the UK, they are also deal with deactivation of guns for display use. The Goldsmiths still carry out precious metal testing and Hallmarking. Livery Companies now mainly focus on their four pillars: charity, education and fellowship as well as industry.
The WCIT is one of the most active Livery Companies in the City. With just under 800 members we are punching way above our weight. With over 20 Panels or Committees cover interest groups including: Arts, Education & Training, Entrepreneurs, Equality, Information Security, IT Accessibility and many more. Since joining I have had the pleasure of working with some amazing people in the organisations we support through our voluntary activities. I Chair two Panels and I am Secretary for one of the Committees and I am involved with a number of other Panels and Committees.
I feel privileged to have the opportunity to work with some amazing charities, many of them grass roots having a positive impact on many of the issues we face in society today. I have helped charities to ensure their IT facility is appropriate to their business requirements, supported them with specific issues such as loss of service and on some occasions provided an arbitration service resolving relationship breakdowns between charities and their suppliers.
Four years ago the Charity IT Association was formed out of the WCIT with support from a number of other organisations. The WCIT volunteers are predominantly based around London so our volunteer reach is limited. The Charity IT Association is a "dating" type service matching IT volunteers with charities in need of IT support across the UK. I was lucky enough to be involved with CITA from the very early days piloting some of the service offerings as part of the steering/management committee and I am now a Trustee. CITA volunteers have helped over 600 charities since 2015.
It isn't all about technology. The WCIT provides volunteer coaches to assist Royal Signals personnel with their transition from a military career to a civilian career. I am currently working with a Livery colleague on a new through career coaching programme for the Royal Signals. This is due to be launched in April 2020 to address some key areas for the Royal Signals and their personnel including talent retention and military to civilian career alignment.
Since joining the WCIT I have found myself in many locations and situations I would not have dreamed of earlier in my career: Guildhall, Mansion House, Kensington Palace, St James Palace, the Officers Mess in Blandford and numerous Livery Halls, some dating back hundreds of years. I have busked in 10 locations around London to raise money for Red Trouser Day – a charity founded by one of my Livery colleagues, I've played ukulele and sang for charity at a Gala Dinner and sang and played ukulele for an assembly at a Special Needs School.
I've met a Princess and I've been the guest of a Countess on her table at a dinner. I have worked with many business leaders I would not otherwise come into contact with, let alone have the opportunity to work with. But most importantly, the work I am doing is making a difference, it is having an impact on society and it is extremely fulfilling.