Seven Ways to Deliver Excellent Customer Service – That'll Be The Day!
A lesson for anyone wanting to provide an excellent customer service experience…
I mentioned in my previous blog about customer service being a performance. This really came home for me recently after I saw That'll Be The Day with my daughter Karen. It was that experience that compelled me to write this blog as the Company are always a perfect example of excellent customer service.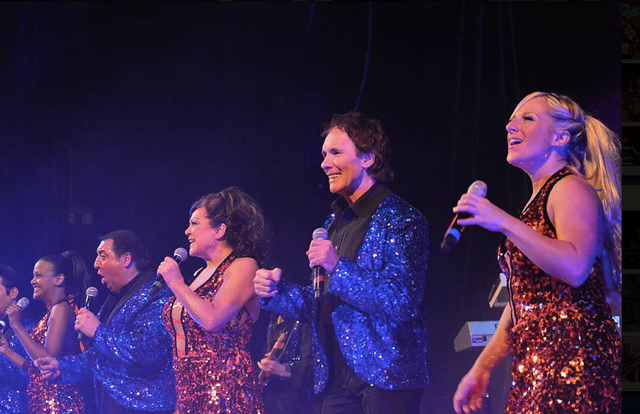 I always come away from That'll Be The Day wondering how the Company managed to be better than the last time I saw them. They always are – without fail. If someone asked me today how I would describe my first experience of That'll Be The Day over 10 years ago and I would say "excellent". If they asked me how I would describe them today I would say "excellent, but more so than when I first saw them." I realise that doesn't make much sense but the whole Company of That'll Be The Day are such consummate professionals under the leadership of Trevor Payne that they continue to improve on excellence. Or maybe, they are just redefining it.
You may ask what this has to do with excellent customer service? Everything! To explain this a little clearer I thought I would cover some typical headings or points that are quoted as key to an excellent customer service experience. So, here we are then: Seven Ways to Deliver Excellent Customer Service – That'll Be The Day!
Seven beats to the excellent customer experience bar…
1. Knowledge of the product
The product is music and in particular music from the 1950s to the 1980s. I have seen many of the bands in this era. I remember going to see gigs during the 60s and 70s when there would be several chart topping bands on one bill. I have seen Gerry and the Pacemakers, The Rolling Stones, Cliff Richard and the Shadows, Suzie Quattro, The Sweet, Rod Stewart and the Faces and many more. That'll Be The Day's absolute attention to detail is a wonder to see. They are not only a fitting tribute to the great artists of the time, in my opinion they are better. They enhance the experience.
2. Highly trained staff
When an organisation is working at its best the staff are appropriately skilled and always working on their own self improvement. The whole That'll Be The Day company are exceptional musicians and vocalists and always exceed expectations. Not only as individuals, they are also one of the best examples of team work I have ever witnessed. The Company take their audience on a journey from the moment you walk into the foyer to the time you leave. What is even more amazing is that not only are the musicians in the company exceptional on one instrument, many of them move around and are exceptional on the other instruments they play too.
3. Make customers feel important and appreciated
When you arrive in the foyer you will always find Caroline (Spud) on the merchandise stand who always greets you like a long lost relation. That is where the experience begins. You have arrived and this is the start of a fantastic evening. Caroline hadn't seen us for over three years as Karen was recovering from a brain injury. As soon as Caroline saw us she welcomed us back as only a favourite family member can. Bearing in mind they are virtually always on tour and must find it difficult to remember where they are let alone individuals they haven't seen for years. We were made to feel very important and appreciated as are every other member of their extended family of regulars and first timers. That is excellent customer service!
As we were leaving the foyer after the show we stopped to talk to Trevor as he was saying goodby to everyone as they left and was collecting for the Make A Wish. Karen wanted to thank Trevor for the get well card and photo the Company sent her when she was in hospital. Karen made an amazing recovery from where she was in December 2014. Her desire to see That'll Be The Day again was a major factor in her recovery. When she received the signed card and photo from the cast and crew it made her even more determined to get back to see the show.
There is so much more I could say on this but in essence and as mentioned in previous blogs, I agree 100% with TGI Friday's MD Karen Forrester's sentiments as when I experience excellent customer service I feel it. I feel like I have received excellent value, I feel like a valued customer and I feel the need to tell everyone about my experience. I would hazard a guess that some of the regular audience members at any That'll Be The Day show around the UK have been following them for over 20 years, I would guess some even go back to the 80s. When you are in the foyer you will hear seasoned audience members talking about various members of the Company like they are old friends. That is because that is exactly what they are!
4. Identify and anticipate needs
That'll Be The Day is a touring company of phenomenal performers. They started around the same time as Astro in 1985 and are still going stronger than ever. Karen and I have been going to their shows for over 15 and 10 years respectively. I have been going to gigs and concerts for over 50 years and have seen many of the bands from the 60s and 70s paid tribute to in That'll Be The Day and it is a fantastic nostalgia trip. But, to say it is just a nostalgia trip would be a massive injustice to the That'll Be The Day Company. Whenever I see That'll Be The Day I would say the audience age ranges from under 9 to over 90. This bears testament that Trevor and his Company know their audience intimately and they are expert in their ability to identify and anticipate the needs of their audience. I am qualified to say as I am one of them and I have met quite a few of them!
5. Continuous improvement
The entire Company do a fantastic job of delivering excellent customer service. It is in their culture. It isn't just about putting on a show. It is clear to see that the show gives many of the people in the audience a purpose, something to look forward to where you know you are going to come away feeling fantastic. Karen was talking to two 'first timers' at the bar during the interval. Karen was encouraging them to come to the next show and become regulars. Karen was soon joined by another regular 'selling' the show.
That'll Be The Day have such a loyal following I suspect that they could still fill theatres around the UK even if they were not constantly raising the standard of their show – bearing in mind their starting point in my opinion was already 'excellent'. On reflection after our last experience, I realised that I had never seen so many talented people with such incredible musical versatility on one stage until that night. If you really want to see if Britain has talent, I urge you to go and see That'll Be The Day and you will be in no doubt.
Customer service organisations owe it to their customers to continually improve and give more than is expected of you. Over and above anything else, in a world where loyal customers are often now penalised, take a leaf out of That'll Be The Day's book and treat your best customers better.
6. A calming influence
I wasn't sure about this but then it suddenly dawned on me that many people to go to see That'll Be The Day to escape. I mentioned earlier that the moment you walk into the foyer the experience begins. You are in another world and for a few hours you are absorbed into the show where you can forget the world's problems and your own troubles and just enjoy the spectacle. The Company make sure of it with their incredible talent. My daughter Karen has considerable residual medical issues following her brain injury but during the whole experience from seeing Caroline at the start and seeing Trevor just as we were leaving she was beaming from ear to ear – and so was I. The audience is always safe in the hands in the That'll Be The Day company, from beginning to end. That is why so many of us return time and again.
7. Be friendly
Although this goes without saying, how many times do you come across indifferent or even hostile sales people, shop assistants, vendors and in some instances people claiming to be customer service team members. As we left the foyer there were a couple of members of the Company around chatting to audience members as we were leaving. The Company had a rest day the next day and they were all travelling home after the show to different parts of the country. However, they were still there until after 11pm talking to the audience as if they had all the time in the world. They were just being friendly and continuing to make their customers feel important and appreciated right up until the time they walked out of the theatre.
I just see this as part of their absolute attention to detail that leaves the audience feeling like the Company really cares about them. I have been to many shows in the past where the walk from the auditorium to the foyer and the door is quite a low experience. When you have a chance to meet members of the Company in the foyer after the show I believe it maintains the high until long after you've left the show. Just having a chance to say thank you for a great experience is a bonus.
What can we learn from this? I believe this is a natural extension when excellent customer service is ingrained in the very heart of an organisation. I still hear the occasional "there are no friends in business" statement. I have never believed this. If your customers are your friends your instinct is to do the best you can for them.
A shining example of excellent customer service…
I could spend hours telling you why That'll Be The Day are such a shining example of excellent customer service but I would rather you just go and see for yourself. You are in for a treat! Check out their tour dates here.
Links…
That'll Be The Day
Make A Wish
Thank you…
Thank you to Trevor for allowing me to reference That'll Be The Day in this blog and for his permission to use official web photos. Very much appreciated.