Oh What a Night! The Dartford & Gravesham Business Awards 2016
Astro Overall Winners of the Dartford & Gravesham Business Awards 2016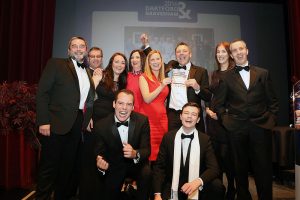 I was ready to go and waiting at the door as my seven-seater arrived to collect me at 5.15pm. I was the first of six pick-ups to get half of our celebration team to the Woodville Halls in Gravesend. We could not have picked a worse evening to travel. Dartford is always congested on a Friday evening, but on Friday 25 November the jam was epic. Everyone and everything must have conspired against us as every car in the south east of England was on our roads specifically to prevent us getting to our destination. The main cause of the congestion was due to a blockage in the Dartford tunnel causing the northbound traffic queue to extend all the way to the Orpington junction. On nights like these many drivers divert onto the very narrow country lanes around Swanley. Lanes that would not be out of place in the depths of Devon and Cornwall. Lanes that resembled bob sleigh runs in the Winter Olympics. Lanes that could only support single alternate traffic flows with every driver fighting to get by at the very few passing points. Gridlocked, and very frustrating as we would rather be an hour early than a minute late. Tension was running high for the first time in the evening.
It is at times like this that technology comes into its own and our driver's GPS with traffic updates took us through what seemed like a series of figure of eights to get to our second pick up. But true to form when you are up against it time-wise you just know something else is going to go against you. On this cold and damp November night, we were about to find out very soon. To set the scene it is important to note the journey we were taking is usually a relatively direct 15-minute trip. On this occasion, as we passed under the M25 along one of the very narrow lanes, for what was probably the third or fourth M25 under-passing in our now 40-minute journey, we saw a van pressed up against the tunnel wall. Alongside the van, a rather distressed looking driver was waving a torch frantically towards the vehicles – including our seven-seater – as they approached the rear of his stricken van.
"…I waited eagerly for a down pour of bricks to make way for a new sun roof in our seven-seater."
As we tentatively approached our new, found friend with his nice torch, we could see a mountain of bricks on the road in front of us. As we didn't have time to hang around and ask questions we had no other choice but to weigh up quickly, whether this mountain of bricks had fallen from the motorway above – and potentially still falling from above. Or, whether they had just literally 'fallen off the back of a lorry'. Our brave driver took his chances and assumed the latter while I waited eagerly for a down pour of bricks to make way for a new sun roof in our seven-seater.
Fortunately, our driver's hunch was right and he put off fitting a sun roof for another day. Also, we were fortunate enough to have followed the van that had obviously ploughed into the bricks headlong and created a perfectly sized way through for our seven-seater. So, it came to past that after a very bumpy interlude we were back on our way – albeit very slowly due to constantly meeting streams of vehicles coming towards us.
Apart from me, all our pick-ups were within a mile or so of each other but the traffic was so congested we collected our final passenger an hour and fifteen minutes after I had assumed the co-driver position in our seven-seater. A vehicle that I had grown attached to because we had been through so much together. We picked up our last passenger at exactly the time we were due to be at the venue and with a 45-minute journey through traffic ahead of us.
"…I comforted myself with a couple of beers secretly knowing that I was right."
We arrived at 7.15pm and ran (OK, fast walked) collectively at a speed high heels would allow without us falling and breaking our combined necks. We clattered into the hall just as our host was announcing the programme for the evening. I had already made up my mind that our noisy entrance had precluded us from being anything more than just finalists.
With the initial speeches over I had some time to read through the programme and assess our chances. I delivered my summing up to our accountant and bank manager. I had concluded that the competition was so fierce (to the point where I had already made my top three selection) that we didn't stand a chance. I had all the proof I needed because our table was at the back of the hall and logic told me that the winners would be on the front tables. Having been reassured by our accountant that the winners were likely to be at the back to enable the long walk of fame to the stage, I comforted myself with a couple of beers secretly knowing that I was right.
I sincerely hoped that I was wrong, because our team deserved some recognition for their hard work, dedication and loyalty. Since 2013 we have been undergoing a significant positive transformation and it has been a very tough few years for us. As a founder of the business, I am happy sharing that had we not set out on this transition under new leadership we would now be a small shadow of the former Astro and maybe not here at all. That is in stark contrast to the growing, thriving, exciting and highly capable new Astro of today.
"…what I did see was our Mr Hodges leap out of his chair and punch the air and I thought maybe I was now dreaming."
Our staff knew the transformation was having a positive impact day to day, and our customers had given us good feedback that reassured us that it was working well for them too. However, to have the Dartford & Gravesham Business Award judges go through our business with a fine-toothed comb and select us as award finalists meant they too could see what our customers describe as 'the Astro magic'. In recognition of this, our management team decided being selected as a 'finalist' deserved a celebration. So, we booked 14 seats at the Awards Dinner for a cross section of our team to celebrate their success. At this point I should just say that along with customer service, celebrating success is another of Astro's 'specialities'.
The evening just oozed quality and the food and service was no exception. The caterers – Bite Me Catering (also from Dartford) – did a fantastic job with excellent food and a first-class service and they certainly set the scene for the evening. Following a brief introduction to each of the 11 finalists a representative from each business was invited up to accept their certificate. Our MD Steve Hodges went up to accept our certificate and delivered it back to my table for safe keeping. As each of the business representatives were called up the tension was mounting for the next stage of the proceedings.
In true X-Factor style the third place, second place and overall winner's were announced in reverse order with the tension becoming unbearable as the announcers opened the sealed envelope. In third place… PLP Fire Protection, a Dartford based safety systems installer. In second place… Leisure King, an events equipment hire firm in Northfleet. By now I had convinced myself that we had done very well being a finalist and there was always next year. So, when the announcer said. "In first place…" the silence was deafening but I still didn't hear what came next. But what I did see was our Mr Hodges leap out of his chair and punch the air and I thought maybe I was now dreaming. The announcer was asking for the team to come up to the stage to collect their award but until I heard my colleague pat me on the shoulder and say "Come on Smithy." it did not sink in for some time.
"With the tension over and the top three announced the room just turned into one big party and the Astro team were in the thick of it…"
We were in a room full of businesses with teams of dedicated, loyal staff, passionate about their product, so first place could have gone to any one of them, because they all deserved the recognition too. Although I felt very proud and grateful that our team's hard work, dedication and loyalty had been recognised I also felt for the other businesses, especially those who had been finalists in previous years. There were some very nice people who came up to us and congratulated us on being selected as overall winners.
With the tension over and the top three announced the room just turned into one big party and the Astro team were in the thick of it from our apprentice Ryan to our MD Steve, every one of us took our place on the dance floor at some point in the final celebration phase of the event. In fact, someone summed this up nicely by saying. "You did fantastically to win, but in terms of a celebration, you excelled. This was the most fun after party we've had at or awards."
I can only finish by saying a VERY BIG THANK YOU to everyone involved in the event including: the Astro team, the organisers, sponsors, judges and other finalists, Sarah and Jo from Rise Communications, the caterers and Dartford and Gravesham councils and last but certainly not least, our accountants Kreston Reeves and our bank Nat West. It was a fantastic event and I strongly encourage other businesses in the area to enter next year.
Links…
Dartford & Gravesham Business Awards
Rise Communications
Bite Me Catering
Kreston Reeves
Nat West Bank