ITDF2017: The Boat That Rocked will be Docked Part 3
The IT Directors Forum: the Casino King, the Espresso Martini and the case of the missing mini-bars
It didn't take long for Mr Hodges to put himself up for title of the Casino King. Early Thursday morning as we were heading away from the Casino for the night club bar I posed the question that I have posed many times before. I prepared myself for the answer as I asked, "Are you up or down?" Mr Hodges immediately replied, "Up." I breathed a sigh of relief in the belief that we had earned our nightcap. Sometimes I just wish I didn't push the boundaries too far but on this as on many other occasions I couldn't stop myself. I asked, "How much did you come away from the table with?" "Forty quid." Came the immediate reply. Then in a rather puzzled sounding voice I asked, "But, didn't you go to the table with two-hundred quid?" No one can ever say that Mr Hodges is not an optimist. He replied, "Yeah, but half an hour ago I was down to my last fiver and now I have forty quid so I won." Far be it for me to criticise, Winston Churchill won a war on logic like this.
24 hours later and with the Karaoke now officially closed I wandered over to see Mr Hodges taking delivery of a ton of chips. Now this looked very promising. Mr Hodges, having seen the chips coming his way got rather exciting and started celebrating. One of the delegates asked Mr Hodges why he was so elated. "Because I have just won!" He replied. The delegate, who shall remain nameless to protect his innocence, sighed and pointed to the croupier handing over a receipt. "You haven't won! You lost all your other chips and have just paid the croupier for £200 more chips." As he said that the receipt floated down from the croupier's hand and landed on top of the pile of chips. True story!
"I wasn't sure how this was going to pan out as Mr Hodges had an array of drinks in his arms but no two of them the same."
In the small hours of Saturday morning, again as the Karaoke was declared closed, I wandered into the casino to see if Mr Hodges had any cash or shirts left. Although his shirt was still on his back his chip was looking rather lonely on the table so the outlook for leaving the ship with a profit was not good. While standing waiting for the inevitable loss of the last remaining chip I got talking to a young woman from the HR Forum. We had a fascinating and lengthy conversation about psychological profiling so much so that I missed the passing of Mr Hodges' final chip. When I next looked behind me the casino was closed and Mr Hodges was gone. I did wonder if he was in the brig but it was too late to start an investigation so I headed off to the nearest open bar. It was now 3.30am.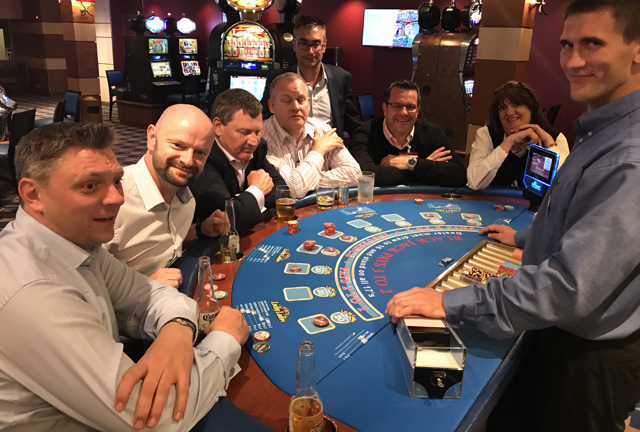 Just as turned into the lift lobby I bumped into a rather excited Mr Hodges and he was definitely on a mission. I asked him what he was up to. "The bar's closed so I'm going up to the 10th floor and I'm going to knock on everyone's door and ask for the contents of their mini bar." "Everyone?" I asked. "Yeah." He replied as he disappeared into the lift. Ten minutes later he appeared with his arms loaded up with various drinks. "We have customers at the bar and they want a drink so they will have a drink." I wasn't sure how this was going to pan out as Mr Hodges had an array of drinks in his arms but no two of them the same. Fortunately, this did the trick and after satisfying our customer's needs there was one drink over. Problem solved. Meanwhile the bar staff were getting a little fed up at the constant attempts of the other less resourceful guests trying to get drinks from behind the bar.
Mr Hodges demonstrated how resourceful he can be when it comes to delivering excellent customer service the night before when one of our customers asked a waiter for an Espresso Martini. He had already had this request declined on a number of occasions over the previous 24 hours but on this occasion, after Mr Hodges pointed out that they did have the ingredients required, the waiter succumbed and headed off to mix the cocktail. We were all expecting the waiter to return with something that looks like a Guinness cocktail with that familiar black body and the rich cream head. What came back was something resembling a Mars drink. Mr Hodges was now officially engaged in a potential Mission Impossible. "Good evening Mr Phelps (Hodges)… if any of your force are caught or killed during this mission the government (Richmond Events) will disavow any knowledge of your involvement."
"I got quite excited and asked if that would apply to my waistband too but my balloon was burst very quickly."
Steve asked our restaurant waiter for a cup of espresso coffee and then headed off with customer in tow to Champions bar. He was next seen behind the bar with cocktail shaker in hands preparing his piece de resistance – Espresso Martini a la Hodge. Mr Hodges presented his work to our delighted customer and this time it not only resembled an Espresso Martini, our customer confirmed that the taste was in excellent order too.
While on the subject of excellent customer service, some may say it is irresponsible and immature for two grown men who really should know better to be up and about and moving between Karaoke, casino and bar until 4am each morning. But, we do this because we have a policy of not going to bed before our guests. So, if our guests are still in the bar, we are still in the bar. This is just the 'Astro way'. Simple! Combined with an element of us not wanting to miss any of the fun.
On Saturday morning, after a full two hours sleep, Mr Hodges and I managed to get ourselves to the Medina Restaurant for our very last ITDF breakfast. Being the last day, it was free seating so we could sit anywhere. As we stumbled into the restaurant we were looking out for our customers and friends and the waiting staff corralled us into the corner of the room like a couple of naughty school boys. Fortunately, we had brought one of our friends with us and another soon found us. The latest addition to our collection of last breakfast friends was looking remarkably well considering he left the bar at the same time as me – 5am. I asked him what his secret was and he confessed that he had taken a couple of anti-inflammatories. One of the other delegates at our table said. "Ah yes, it reduces the swelling." I got quite excited and asked if that would apply to my waistband too but my balloon was burst very quickly.
"…we had to face the fact that we had lost Mr Smith MBE, now demoted by the Richmond Events team to Steve 4."
It was really hard to believe that this really was our last IT Directors Forum breakfast. The time had now come for our disembarkation, and as we were sharing our taxi back with two of our customers we arranged to meet at the disembarkation point on the ship. It took us a little while as we were expecting three Steves' in our leaving party. Steve 1, Steve 2 and Steve 3. Steve 1 – check, I was definitely there. Steve 2 – check, Mr Hodges was right there with me. Steve 3 – check, our Chief Entertainments Officer was also with us. However, someone who was in a better state of mind than me pointed out that Steve 3 had in fact joined us while we were on the ship and we had to face the fact that we had lost Mr Smith MBE, now demoted by the Richmond Events team to Steve 4. There was some talk that he was hanging around to stowaway on the next trip to the Caribbean. To say we were in a panic state at losing one of our cherished customers and friends would be stretching the truth ever so slightly. After searching the ship high and low and trying to call his mobile we were about to give up, when he surfaced. He was in the taxi waiting for us and when we arrived at the car he too was looking like he had just been for a stroll in the park.
It was a quiet and reflective drive back for us. I have done this drive many times over the past 14 years having the reassurance that I had booked for next year's event and I would soon be heading back in the other direction for next year's event. The beauty of the IT Directors Forum is that it is so well framed on the ship that when you step on board it feels like you have never been away. The total professionalism of the Richmond Events team combined with the first class service delivered by the ships' crew creates a fantastic environment that is very special and very unique and I will miss it.
Within an hour of arriving home I was heading out of the house pushing my daughter Karen around the shops and local park in her wheelchair. We called into a local cafe for lunch and as soon as I sat down I was dropping off, much to Karen's delight. She thought it more important to tell the cafe staff and customers why I was in my near catatonic state than to tell me. Wednesday to Saturday with around six hours sleep is undoubtedly a marathon and when you step off the ship, if you have taken the event seriously and used the available time to build relationships and gain some new friends, you too will be feeling exhausted just like me. But, would I do it again? Absolutely!
"…for the time being, we are going out on a high with so many fantastic memories."
I must close with a massive thank you to all the Richmond Events team who have been a major part of our business over the past 14 years. I would go as far as to say they are like an extended family and I will never forget the great times we have had on board. 2003 doesn't seem so long ago when first attended the IT Directors Forum on The Oriana after one of my customers suggested we should attend. I thought it was an eerie coincidence that the Oriana was moored off the coast of Guernsey a short distance from the Aurora during ITDF this year. The first time I have seen any other P&O ship moored nearby.
Is this really our last IT Directors Forum? If our customers enjoy next year's land based event and they recommend we attend then maybe we will back. But, for the time being, we are going out on a high with so many fantastic memories.