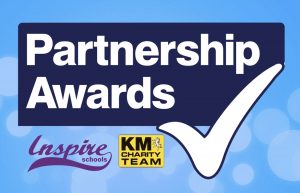 Astro Communications was delighted to take part in a very special awards ceremony to recognise the contribution they have made in helping to deliver the KM Charity Team's fundraising and educational events and services over the course of several years.
KM Charity Team Chief Executive, Simon Dolby and KM Group Head of Multimedia, Nicola Everett, hosted the awards.  Astro, represented by Gemma Vowles, was presented with a certificate for their involvement in The KM Bright Spark Awards.
KM Bright Spark helps to attract students into the exciting world of science, technology, engineering and maths.  Astro Communications Managing Director, Steve Hodges, said. "We were delighted to be involved with the KM Bright Spark Award as it matched the whole ethos at Astro with our a long history of working on innovative projects and never being afraid to push the boundaries.  To receive this extra recognition for our involvement with the scheme was a real honour."
The award was collected on behalf of Astro by Gemma Vowles who said, "It was excellent to see so many like-minded Kent businesses wanting to invest in the future of the UK's young people at this very important time".
KM Charity Team Chief Executive, Simon Dolby said: "The support of these people and organisations is absolutely vital to the work we do promoting child health and educational performance and well-being across the South-East"