Who pressed the nation's "it's too difficult button"?
Is it OK to just surrender to the Beast from the East?
By Steve Hodges
Firstly, let me be clear this blog is not targeted at the unfortunate people who have spent all night in their cars in unimaginable conditions; it is not aimed at those for whom getting out in the snow and the cold would be considered dangerous or hazardous or downright stupid, or for those in remote places where it would be unreasonable for services to function as usual – I am not that unreasonable.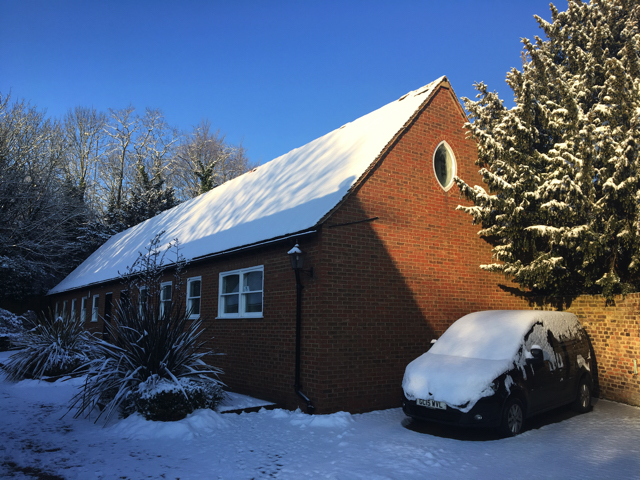 I completely appreciate that there are some very legitimate reasons why people are unable to go about their normal routine when the country receives, by global standards, an embarrassingly light dose of adverse weather. How, as a nation, we are so ill prepared and incapable of coping with poor weather, and why we need to label cold temperatures and snow showers as "The beast from the East" to make ourselves feel better about it, is content for a blog I can't even bring myself to write.
My teenage children live just north of Calgary in Canada, and my grandmother is from just outside Vienna in Austria, and the mockery I receive when we have snow day in the home counties and London is embarrassing to say the least.
That aside, I am always bemused by human nature at times like this and the old adage "you can have excuses or results but not both" plagues me on every occasion. Yesterday at work I had a full complement of support staff, a fully-functional operations and delivery department, and I had field-based engineers helping customers from Falkirk to Blackburn to Portsmouth – some fitting outdoor Access Points and cables!
Throughout the day I received emails from suppliers explaining that due to the inclement weather we would be receiving a reduced level of service or no service at all. This ranged from infrastructure partners to delivery drivers. I have no cause to doubt the integrity of these organisations but, on an individual level, I would imagine they feel that they would have been let down by people who use the prevailing conditions simply as an excuse not to work? Even those of my team who could not get out of their road because someone else hadn't done their job, worked remotely!
At the end of the day, Astro customers are at the end of that telephone and our customers need assistance so simply not turning up, and therefore, potentially preventing others, who have made the effort to get to work, from doing their job is simply unacceptable.
It takes me back to a time in 2009 when we were rolling out a project for a major automobile organisation across the whole of the UK; one of my engineers, Will Curtis, was advised by Sky that he wasn't to have his equipment delivered that day because the van delivering it couldn't get down his road. At the same time Will drove from his house to Scotland and installed a WAN router in a showroom in order to stop them from losing their connection when the old network was ceased. Equally, yesterday one of our customers, who has a restaurant in Heathrow Terminal 5, reported that they were desperate for two replacement payment entry devices (PED's) – our courier company had chosen to suspend services to our office (the one that is full of staff helping customers) for two days so one of my Service Desk Engineers, Nathan, took the devices home with him last night and is getting on public transport to Heathrow this morning to ensure that the restaurant, which could be pretty busy if flights are delayed, can function as usual.
Again, for clarity, I would not expect or allow any of my team to undertake activity that was dangerous, or that they were uncomfortable with, however, if the mind-set of the entire organisation is the same, getting individuals to care rather than just loving an excuse to let people down becomes the norm.
We are far from alone, we work with other businesses who are in the same situation as ours. But as we start day two of this national disgrace and my guys look at cancelled trains, cancelled buses, cancelled couriers, reduced support staff in support centres, no gritting lorries on the road and infrastructure partners a thousand times larger than us declaring a reduced service due to circumstances beyond reasonable control, I have to question is it the will of the individuals or the culture of the organisation that engenders these sorts of behaviours?
I will now put my high horse back in it stable and go about my day, assuming of course my train to London isn't cancelled!
A HUGE thank you to our Parcelforce hero for business as usual
While on this subject, there are some organisations that do stand out against the pack. One in particular springs to mind so I would like to give Parcelforce a special mention and a huge thank you as the picture of our "Parcelforce hero" taken this morning clearly shows it is business as usual as far as they are concerned.